On the late in-scene label website , a brief summary of two Little Nemo gigs:
Little Nemo + Neutral Project 26/05/1989 - Paris, Théatre Mouffetard

Little Nemo + Lolldi 9/12/1989 - Saint Germain en Laye, La Clé 40 Francs
setlist Little Nemo :
New Flood - Marine - Fear in colour - à une passante - sandcastle - you again - old age - hillside manor - promise of storm - the city lights - garden wall - god of indifference - running to the sun - blue year - love is a lie + Electric jive - l'heure d'hiver

3 pictures taken during this gig here

Memories of a Little Nemo gig at La Clef (Saint Germain en Laye) on the 19th of June 1992. the webmaster of Turquoise Fields was there.
Little Nemo is back at La Cle three years after the concert I missed in 1989. Before them, MAT plays its industrial rock and as a surprise, Philippe Planchon of the late Asylum Party is in charge of the lights. It's an opportunity to have a brief talk with him, nothing is planned for the moment.
Then, a tailless piano is brought on stage and here comes Vincent Le Gallo, dressed in a tailcoat (his taste for classical mood has already been noticed in Little Nemo songs and on the Unreleased III sampler). he sits behind the piano and a woman is in charge of the vocals. The unknown tracks are from his solo Lp (unfortunately never released) and I only know Les pierres de Gavrinis (Gavrinis stones) which was played on Bernard Lenoir's show on the national radio (our french John Peel). There's also another Baudelaire poem put in music, La cloche felee. The younger part of the audience is not always receptive to the intimate mood of these tracks that I do hear with great pleasure.

Then, a full Little Nemo gig team settles on stage (Vincent Le Gallo and another guitarist , Bill the bass player, a keyboards player, a drummer and Olivier who focuses on the vocals). The temperature rises and the audience is very receptive to the rockier tracks, mainly taken from the World is flat LP. Olivier sings on Au milieu du ciel while Vincent, who sings this track on the album can concentrate on his guitar playing. Teenagers dressed in black coats climb on stage and do a bit of slamming, while an anxious Olivier advices them not to hurt themselves. Musically, the band is well trained and delivers rearranged versions of their oldest tracks: Hillside manor includes a reggae bridge and between two songs, Bill and the drummer even improvise a funky jam! Old classics are also played, such as A une passante with Vincent on vocals and Olivier on melodica, chained with New flodd. The gig ends with the groovy Thoughts and words and Electric Jive.

Here's the set-list, in disorder:
Vincent le Gallo solo (several tracks including Les pierres de Gavrinis)
When summer's gone - Pray for the great day - Journey to Ixtlan - Rubbert Hearts - Au milieu du ciel - Overprose - Railways and roads - A une passante - New Flood - Hearts burn - Hillside manor (passage reggae) - In the heat - Anybody home - Rumours - impro funk - Thougths and words - Electric Jive.

An account of the first come back concert in 2009 at La Locomotive, in Paris, on April 29th, for the "Infras-T-Pop Party", by the webmaster of this site.

For his great come back, Little Nemo plays on stage after Babel 17 and Complot Bronswick. Over 300 people came to the Locomotive gig, mainlly the audience of the 80's, in their late thirties and forties and a few young fans, among which anglosaxon and numerous talkative (according to my friend Fred B.) spaniard natives. Even a famous french singer, whose first name is Vincent (not Little Nemo's one) arrives just before the Little Nemo set.

To climb on stage, Yves the drummer wears summer clothes, an indication of an energetic performance to come while Bill is dressed in black and leather jacket, Ronan is sober in black and Vincent, his eyes stressed with discret eyeliner, wears a psychedelic shirt under a black waistcoat.. Bill is in charge of the guitar, leads vocals on the song Olivier used to sing while Vincent has switched to the bass guitar, leads vocal on the songs he used to sing and sings backing vocals on the others. The set begins with the barely (never?) played live "Turquoise fields", with an electric feeling on the second instrumental and third sung parts, Bill assuming with efficiency his new singer duties, sometimes with impetuousness.
The setlist is mostly drawn from "Sounds in the attic" and "Past and future", with a little wink to the Prisonner TV serial before performing an energetic rendition of "Be seeing you" as track number four. The band performs a rockier set (than in the 90's) set, without deafening the audience like the band just before (don't forget we are a mostly mature audience§), the sound well balanced but the voices are sometimes drowned on the most sonic parts. Yves shows an impressive energy at the drum set, Bill and Vincent, concentrated, sometimes face each other on the instrumental parts and Ronan, when he's not taking advantage of the keyboardless parts to dance on stage, fills the sound with melodic arpeggio, sometimes sounding like a piano or accordion (on "A une passante") or leads the dance with inflammating organ bumpers on the guitarless "Bee seeing you" or "Alan is waiting" (and this time "something is happening!").

Bill dedicates to the "ones we lost and found" and Vincent simply to Olivier, the missing one of this live formation, the next track "Anybody home". Then, a guest violoncellist, Ian-Elfinn of the band Les fragments de la nuit, takes place on stage and starts with Vincent on vocals the first measures of the extremely rare "Balade des pendus", before being joined by the others on this melancholic waltz. In the same "French accursed poets" vein, Little Nemo will also play two Baudelaire poems, "A une passante" and "La cloche fêlée", a song from Vincent's unreleased solo album, played on the "World is flat" tour. The band even draws in his pre "Past and Future" repertoire with "September" of the "cassette froide" and "Mad Master", an old unreleased demo, introduced by Bill as an "unreleased song from the first album".

For the encore, they perform the famous "A une passante" and "You again", first beginning soft with just guitars and voices and an invited amateur stage dancer. Then, Aurelia of the band Eole joins Little Nemo on stage to perform the backing vocals on "Cadavres exquis". She sings alone the verses on "Tales of the wind", and is joined on the chorus by Bill and Vincent. This energic and melodic version closes this successful and appreciated live come back..


A rehearsal in 1985, with the first bass player named Gordon.



pictures Emmanuelle Debaussart

A curiosity: Little Nemo's first bio in 1987 (Thanks to Gildas!)



Here's the translation:
Little Nemo is a duet founded in 1983, their first songs were recorded on four-tracks the following year. They have written at least thirty tracks.
Two long-time friends with the help of temporary members for a gig. Both of them are composing, singing and taking in charge various tasks:
(Vincent: guitar, bass, piano, vocals in french, Olivier: keyboards, drumbox, technical parts, vocals in english). They don't have a fixed role.
Yes but ... what about the style? If you want to put them in embarassement, that's the question to ask them! So many influences and different tastes (from the most obvious scars - from Erik Satie to The Stranglers while passing by The Beatles - to the most unexpected reminiscences...). Finally, if you really wish to stick a label, choose "eclectic pop".

Tapography: (same informations as on the discography page of this site)

Gigography:
1985:
September: MJC Villebon

October: Cithea
Jacques Tatie Public Hall (Orsay)
interrupted because of a material theft

1986:
December: Palaiseau

1987:
January: Le Parc (Ivry)
February: number one at the Grandes Ecoles rock contest in Lyon
March: Le Parc (Ivry)
April: Le Kristal (Grigny)


Some press pictures(1986-1987)



pictures Emmanuelle Debaussart


Pictures taken with the DJs of the radio programm "British Connection" on Radio Val (France, in the Essonne) in 1989



Olivier & Vincent with the team of the radio programm



Four people of the radio programm with members of the three bands forming the original Touching Pop:
Cecile (Mary Goes Round), Pascale (Asylum Patry), Olivier (Little Nemo), Philippe (AP), Jerome (MGR) and Thierry (AP)


The gig at Saint Germain en Laye's La Clef on the 9th of december 1989 (pictures Stephane Sotkine)

Vincent, Bill et Olivier (not on the picture, the drumbox...)



Bill in charge of guitar duties on one track



Vincent


Bill and Vince during the Ronchin gig in 1989.



Photo Paul Fiction


Olivier shot by Fushia for an interview in the Kissing Booklet fanzine (1990)




Pictures taken by Fushia while the band was recording the Turquoise Fields LP (1989)



Vincent busy with his guitar



... and in action



the sound-engineer Jean Taxis, Bill and his bass and Olivier



Bill & Olivier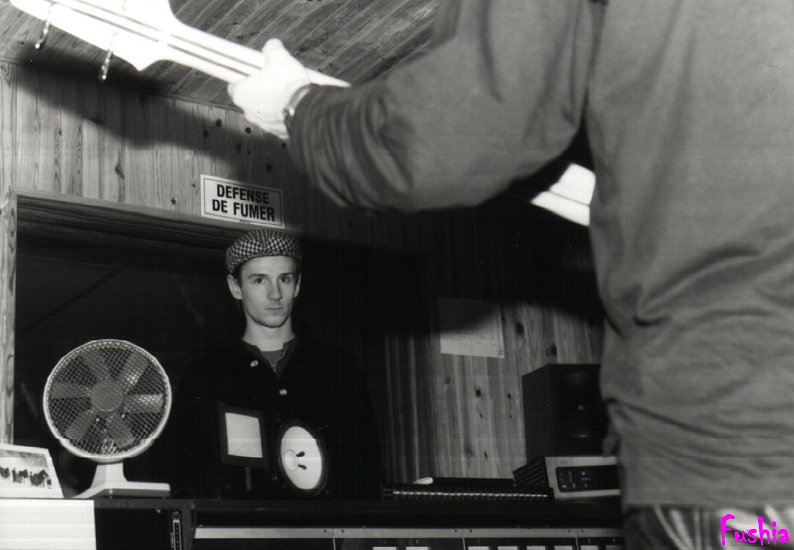 Olivier facing Bill



About the influence of beer on Touching Pop: a few moments of good time...


A few pictures of the 1990 Turquoise Tour, thanks to the Babel 17.(more pictures on their site)



Holyvier



Holyvier and Herr Doktor, sound ingeneer for Babel 17, Little Nemo and co-producer on the Cadavres Exquis EP, Bio-Logic EP and The World is flat.



Emmanuelle Debaussart (famous french rock reporter writing for Best) shooting Yves Charreire, Ronan Lesergeant et Holyvier.



Little Nemo and Babel 17 on tour: Herr Doktor, Holyvier, Vincent Lepeaucre, Bill, Emmanuelle Debaussart.


LITTLE NEMO'S GIG AT THE EUROCKEENNES DE BELFORT ROCK FESTIVAL IN 1992


Photo Paul Fiction
This was Little Nemo's last gig, with bermuda shorts (read the history section of this site)